Budding is defined as "Becoming larger as the normal process of normal growth."
And with Spring SO close, isn't this JUST the time to experience that in the natural world around us. 
I LOVE that they name it: "Budding out is NORMAL and part of our growth."


I've been taking daily garden walks and mentally noting the growth progression: "Daphne – check, tulips – check, Blueberries – not quite yet …"

And it's getting me thinking … thinking about how we creatively bud out or how we stay in hibernation mode. Oh it's SO tempting to want to stay hunkered down under the leaves/bedcovers, to tuck inside our homes and not venture out on a promising Artist's Date. I get it! It sounds so cozy, so comfortable, SO safe.

And yet, is it? Is it really? Because while cozy/comfort has its place and SO understandable considering the last few years, it can rob us of spreading our leaves/wings and seeing what might be in store for us when we do.

Lately I've been noticing how budding out opens my world. I've had a bush in front of my front window and while it has a lovely green color, it also blocks my view of my oak trees, my view into the street and into my neighborhood. As part of Reading Deprivation week ('member that?), I got it into my head that part of MY budding OUT was taking DOWN my bush. Step by step, sawing one branch and then another, I was amazed at the new view in front of me and how I felt like the world had opened up bigger for me: I now have more light, can see into the distance and have a new perspective.

Budding out often happens when folks experience the power of Artist's Dates. New ideas emerge, moments of joy burst forth, excitement around new sensations experienced. One of my other budding experiences was while on an Artist's Date at a coffee shop writing. I realized that I really wanted was my bandmates and I to finalize our band name. We've been playing together for 6 years now sans name and after some gentle (or so I claim!) prodding from me, they agreed "Kate lead the way – find us a good one." I went to Easy Street Records on a whim and started scrolling through the album names thinking "Maybe I'll be inspired here." We'd already agreed to the first part of the name "Marina" because we love to play by water. We wanted the second name to capture the feeling we have after playing – feeling jazzed, transformed, renewed. While going through albums, one name jumped out at me: "Redemption." I mulled it over "Marina Redemption, Marina Redemption" Hmmmm … I like it! (Plus Shawshank Redemption is one of my favorite movies)." I shared it with my bandmates and they were ALL in. If you want to see, like and follow (the beginning of) our Facebook Marina Redemption page, join us HERE.

Now on my daily garden walks and I see the buds emerging, I root for them. I also picture what needs budding out in my life – what small steps/bud could emerge that could turn into a wonderful gift/flower for myself and others to take joy in.

I'm rooting for you, too (no pun intended!) as you consider what wants to be blossoming in your life this spring. HAPPY ALMOST SPRING!
Warmly, Kate
Kate Gavigan, Creativity Teacher and Speaker 
HAPPY NEW YEAR 2023
Leaning Into Creative Impulses
As 2023 is literally around the corner, I've taken to pondering again what the coming year might mean for me. Instead of having a fixed intentions/resolutions, this year, I'm pondering this phrase:
"Embracing the Silly."
In Julia Cameron's "The Artist's Way," Julia talks about how silly can be GOOD and how some of her best Artist's Dates have been silly. The word "silly" though has a pretty bad rap – defined as "exhibiting or indicative of a lack of common sense or sound judgment." However the synonyms for silly include both negative and positive attributes: "Mindless, loopy, frivolous, soft in the head, dippy, dotty, laughable, and childish." I have heard from our students that some of their creative pursuits have been given these less than positive descriptions and stopped their creations in their tracks before they were allowed to breathe ... to take flight.
But I'm fighting back and allowing for the SILLY!
What's wrong with "mindless," "loopy" or "frivolous" for that matter? What I hear underneath those descriptions is PLAYFUL! When I'm in my PLAY, it might appear mindless, maybe even loopy or frivolous for that matter. But what does it give me, when I give myself permission to play, to be silly? I feel lighter, am delighted, and often admire the sweet efforts. Allowing for the "silly," I even see positive trickle down effects. When I give myself permission to mess around with something that might not have some merit, I often free myself to "mess around" with other things in my professional or personal life.


I've gotten a jumpstart getting on the silly train as my latest endeavors have been playing with making little people out of acorns after watching a youtuber do the same thing. (mine are in the photo to the right). I had a blast, glue gun in hand deciding what head attire they needed and what their names were (they spoke up and declared their French names – think Pierre, Jacques and one American outlier name: Rudy). Are they mindless? Loopy? Childish? Maybe and yet they delight me (and many others who've seen them). Then a few days later, I had the impulse to make a tree out of buttons and a branch (Thank you Pinterest for the inspiration!) and voila (see my button tree to the left) and even stars out of yard sticks (above!). You could probably make an argument my button tree was due to my desire for color and spring buds (and you probably would not be wrong). However, I'm giving myself permission to go with what speaks to me as silly, just because it calls to ME.
Our students have been such an inspiration to me along these lines. I hear them allowing themselves to play with any number of new adventures: Crazy quilting, studying architecture, deep dive into knitting, writing, and any other number of adventures. I hear them often say "I have NO idea where this is going to go, but I'm giving myself permission to explore it." And I say "hear hear." And boy, do I hear them!
Now it may be a coincidence that very soon after my silly play, I had an inspiration to create a NEW ONLINE Artist's Way DROP-IN Monthly class for Seattle Artist's Way Alums starting at the end of January 2023 (More on that below). Whether something tangible came out of my mindless play or not, I'm so grateful for The Artist's Way giving me permission to be silly – to lean into my creative impulses and see where it leads me – whether it's a smile or a new class.
What is something silly YOU could lean into in 2023?
Wishing you DELIGHTFUL creative impulses this coming year of 2023 and much much JOY.
(And hope to see some of you in our weekly Artist's Way Class for Alums OR our monthly Drop-In Artist's Way Class on the last Thursday of the month).
Warmly, Kate
Kate Gavigan, Creativity Teacher and Speaker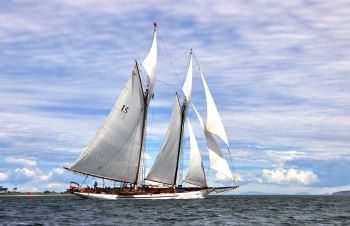 "My isn't she yar!?"


I've been itching for a sailboat ride - BIG time. I'm not sure why exactly. Some of it makes sense. I love the water, always have. Adventure, pirate movies were a childhood favorite. But it feels like something else, too. I've had a number of close people in my life move out of Seattle lately so maybe it's about wanting to actually ride the metaphor of folks sailing away? Whatever it is, I'm ready to scratch it.
Hmmm but where to begin? I listened to Christopher Cross' Sailing, I watched sailing vlogs, I made it part of my Artist's Date to ask around for boat charters. As synchronicity would have it, I was directed at Shilshole to a sandwich board for Sound Experience. I checked out the website and there was HER picture and her name, "The Adventuress".
JUST want I had in mind - part pirate and part explorer vibe with a name I'd willingly have as MY nickname. I was ready to SIGN UP but ... hold up ... yup, Covid strikes AGAIN. They're having to hold off on their public charters for the immediate future.
So what's a gal to do? (tapping fingers, tapping fingers, tapping fingers ... snaps fingers!)
"OK, if I can't go out on the Adventuress right now, I can at least BE the Adventuress!"
Covid Critic: "Is that still allowed?"
Adventuress Me: "Ummmm, YES!!"
That sailing seeking baby step got my adventure seeker ears and eyes open. It also helped to remember Julia Cameron's encouragement that when you are wanting to expand your creative output to continue to "fill your well with images." So, if my Adventuress sailing adventure would have to wait, then what's next?
As synchronicity would have it (again!), I had a family member inquire about some genealogy research I had done on the Irish side of my family. It got me going on a long set aside project to finish the Irish Gavigan Family Tree (almost done!) AND led me to reminisce on the Irish friends I'd met when I did trainings in Ireland. I realized it'd been many many years since I got to chat with this one Irish friend in Derry and in no time we were scheduled for a Zoom call.
We had a delightful chat with images abounding including hearing my friend's great laugh, seeing a glimpse of his sweet pup and being given encouragement for the impending rains.
Me: "So how are you dealing with the impending Irish Rain?"
Friend (Insert Irish accent): "Awwww Kate, you know there's no bad weather, just bad gear."
Me: HaHAHAHAHAHAH.
It also got me to to to REI and buy those REI rain pants I've put off getting for years and now I'm OUT walking/adventurizing (ESPECIALLY in the rain).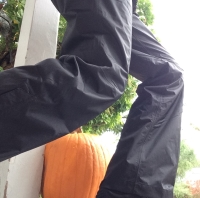 So now?
I haven't abandoned the sailboat ride plan or finished metabolizing my feelings of loss around friends' departures (thank YOU morning/mourning pages!), but all of it is USE-ful. I may wait for the Adventuress or perhaps will look into options down at the pier. But here's the amazing thing about those baby steps, instead of taking me out to Shilshole Bay, I got to go to IRELAND (in several ways) ... apples instead of oranges.
Where are YOUR baby steps taking you?
Adventure Meditation from Julia Cameron's Daily Reader:
"Humans are by nature adventurous. Watch a toddler expand her territory a wobbly step at a time. Watch a teenager test curfew. Watch an eighty-year-old grandmother sign up for an art tour of Russia. The soul thrives on adventure. Deprived of adventure, our optimism fails us. Adventure is a nutrient, not a frivolity. When we ignore our need for adventure, we ignore our very nature. Often we do exactly that, calling it "adulthood" or "discipline." When we are too adult and too disciplined, our impish, childlike innovator years to rebel."
Hope you stay healthy and INSPIRED and Adventuress as we head into Fall!
AND our WINTER 2021 Artist's Way Classes are NOW OPEN for Registration - ALL ONLINE/ZOOM - THREE (count 'em 3!) Classes!

We hope you can join us for one of our classes!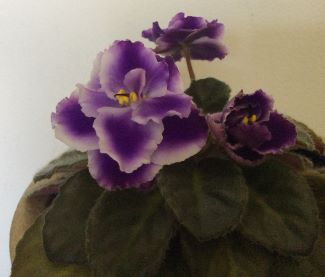 I sometimes "hear" the title of my blog posts and I begin writing almost like I'm in a trance or as Julia says "like I'm taking dictation." Those are my favorite writing moments. But THIS time another title popped up shouting "look at me!" doing its best to relegate the original title to a smaller role. It won.
My new title "Shining a Light on Being Willing to Grow" is on my mind for many reasons.
As I continue to work on my creative practice and see the practices developing in my students, I am more aware of the challenges and obstacles that can derail us from our growth. These blockers keep us from allowing ourselves to be the WONDERFUL people we are, USING our tremendous gifts and talents. These creative lessons have some parallels to my willingness to grow in other areas of my life such as educating myself more on what I can do personally and as a business owner to combat racism and to support the message that Black Lives Matter. I wasn't alone. I heard my students making comparisons of their own.
For me, it started with a skirt.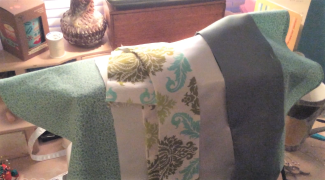 I'd been working on this skirt for weeks. It started out with a desire to do something with some fabric I had. Challenges arose pretty quickly (i.e. not enough fabric, seams not matching up) and after much seam ripping and internal lamenting, I gave the skirt and myself a time out. And there it sat on the sewing machine. Waiting.
And I reflected, "What was it that was keeping me from moving forward?" I revisited several Artist's Way chapters and I could see the blocks. Anger was surfacing ("Why can't I do this?!";), Shame, too ("You should have NEVER started this, you don't know how to do this!).
But the desire to shine a light on my desire to grow was also there. Thank. Goodness.
Was I willing to listen? ("You can rip out seams as many times as you like!) Was I willing to try to move forward even if I didn't do it perfectly ("Yes, you can try pairing satin with cotton!") Was I willing to take a risk ("Can I really add a piece to the pattern?!")?
At the same time, I was reading more and listening more on the topic of Black Lives Matter. I heard things like "listen" and "move forward" and "educate yourself and grow". Also experiencing feelings of shame around "I should have been doing more sooner." And again … thank goodness for growth … being reminded to respond kindly to myself AND ALSO take baby steps.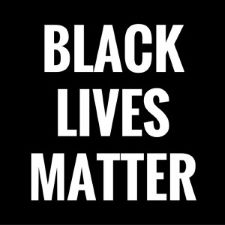 My baby step is to take time to listen and hear stories from black men and women sharing their day to day personal stories of encountering racism hearkening back from childhood to present adult life. Those stories bring up a myriad of emotions ... anger, shame and again a desire to grow, to listen more. (Here's some powerful stories and here.)
I was moved once again by the power of stories. The stories of others. Our stories. Stories give us the power to heal, the power to teach, the power to allow us to shine a light. To grow and change. I hear often how it can be tempting to want to put away those things that disturb us whether it's skirts we can't seem to complete or feelings that are hard to face. I'm reminded though that when we give ourselves permission to shine a light and to grow, amazing things can and do happen. Often far greater things than we could ever imagine.
I did finish the skirt. I took a risk. I allowed myself to continue. To listen to those critical voices and to gently talk back to them. I look forward to doing more of the same in all areas of my life.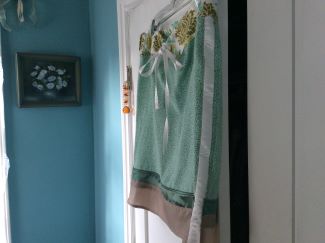 Wishing you encouragement as you grow.
*********************************************************************************
Our Fall Artist's Way Classes are Now Open for Registration! For more info, go to our Class Offerings page!


Artist Dates in Quarantine

Julia Cameron in "The Artist's Way" talks about one of the key creativity tools is the weekly Artist's Date. An Artist's Date is a time for you to go have FUN for an hour or two a week by yourself (solo!). Why Artist's Dates? We sometimes hear from our students "I already spend so much time alone, why do this?" And then they try an Artist's Date and they have a new awareness as to the benefit. There is something about heading out on an Artist's Date and saying to yourself "This is my Artist's Date." Our students report seeing things in a new way, paying attention to details they normally would miss and carving out time to allow for fun and play which lifts their spirits and gives them new inspirations. And that's just SOME of the benefits!

Here are more reasons Julia says Artist's Dates are a wonderful creative resource - Artist's Dates ...
1) "Allow us to receive – to open ourselves up to insight, inspiration, and guidance"
2) "Allow for self-nurturing"
3) "Can make your work feel like play."
4) "Allow for self-intimacy"
5) "Give us the time to cultivate our creativity"
6) "Help us fill our well with images"


That sounds great, you might say, but HOW do we do Artist's Dates while we are in Quarantine and in shelter-in-place and have limited movements in the public sector? 


Excellent question! Our Winter 2020 Artist's Way students were asking the same thing and they came up with some FANTASTIC ideas. We focused on #6 above and tried to answer the question "How do we fill our well with images?" ESPECIALLY, when our images are starting to look VERY similar in our homes. 


Here's what we/they came up with:


1. Walks became a REGULAR artist's date go-to while we are hunkered down in our homes. The challenge was HOW to make the same walk seem more inspired. We asked ourselves how could we pay attention in a new way. Here were some FUN ideas:

*Instead of walking the same direction - make a small change and walk the OTHER direction noticing what you see going THIS way and not THAT way.


*On your walk look at what you are wearing and trying to find colors in plants, cars, et ctr. that match your clothes color item and take a picture

*When you come upon a hopscotch on your walk path or a chalk direction to "hop three times and clap your hands 5 times" - embrace the PLAY and DO IT!

2. DISCO time! We had two students who unbekownst to each other bought a disco ball to install in their homes and were having solo DANCE Parties/Zoom parties with others

3. CLASSES online! What a gift it has been to have so many in the arts open up their classes for free or for very little (including dance classes like a very popular Dance Church event happening locally online).

4. Challenge yourself to learn a language (Italian?) - baby step your way through it using DuoLingo and emersing yourself in Italian films online to see if you can catch a word here or there - "Grazie"  .... "Prego". Have fun watching Italian Singers on the Italian version of the Voice. Here's one of our favorites: https://www.youtube.com/watch?v=TpaQYSd75Ak&t=383s" target="_blank">Suor Kristina.

5. Wear your mask and make a quick trip to Home Depot and pick up some plants (photo above) to spruce up your yard and create some new colorful images. Dream a little - do pansies spark your fancy or do snapdragons bring you back to sweet memories of your grandma's garden? Embrace your intuition and snag what makes your heart sing.

6. Go for an Art Walk in your own home - take pictures of your art - or just some section of your art and REALLY look at it - pay attention to the color, to the brush stroke, to the attention the artist gave to the picture. Maybe even try to do some art in the style of that artist.

7. Take your daily walk to the beach and write an inspiring message in the sand - "Courage" (or in Italian ... "Coraggio!").

8. Before your walk draw a smiley face on your mask or the word "HELLO!" and notice the thumbs up, smiles from your social distancing fellow walkers.


9. Get out those paints at home and if you don't have a canvas - improvise! What do you have around you could draw on? Any wood in your garage you can repurpose and use as a canvas? Play with what you have! Get your inner Jackson Pollock on and let yourself have FUN with paint and color.


10. DRAW - think you can't? Try this ... go around your house and find shapes that call to you - get a piece of paper and trace the shapes around on a piece of paper in whatever way pleases you. When you are done, color it in - add lines, images that call to you. Allow yourself to enjoy the meditative feel of picking up markers and crayons and moving the drawing implement across the page. (See below for our student Trish's cool shapes!).


Allow yourself to use your imagination! To quote an acting teacher of mine, "Your imagination is a muscle, the more you use, the stronger it will get." YES!


Wishing you INSPIRATION and BABY STEPS as you try on some new Artist's Dates and allowing for FUN and PLAY and JOY! All needed during these extraordinary times! 

Best, Kate


P.S. Our Winter 2022 Artist's Way ZOOM Classes are Now Open for Registration with classes starting in mid-January and running 12 weeks. Classes on Monday nights or Friday mornings. JOIN us for FUN as we rediscover our creativity. More info on our Class Offerings or Register for Classes pages.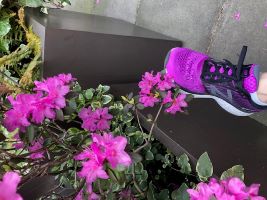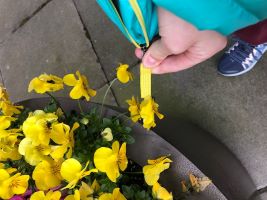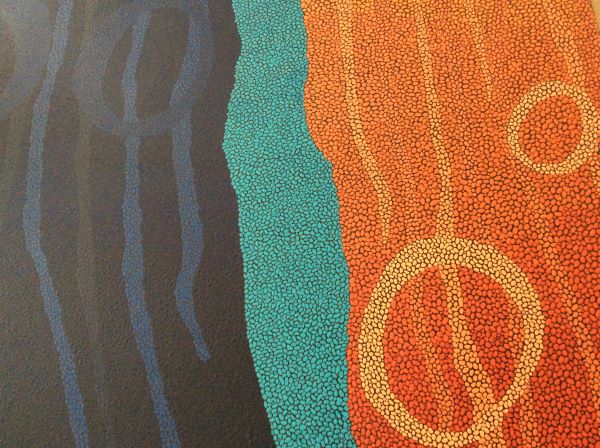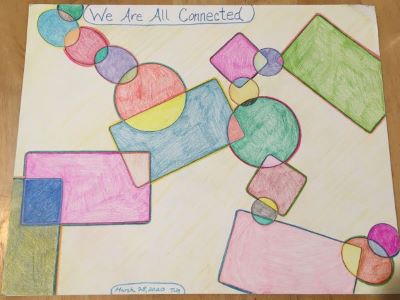 Here are MORE Artist's Date Ideas in Quarantine from our students:

*watercolors
*prismacolors (or other colored pencils)
*adult coloring books
*embroidery/cross-stitch
*beading/jewelry making
*at-home spa day (facial, manicure, etc.)
*walk or drive around and look for lilacs (or whatever other spring flower you like)
*bake and decorate a cake, cupcakes, or cookies
*order your favorite berries from a local farm online, and make homemade jam
*Shakespeare day (or other literary classics)
*go through your closet and makeup drawer, and play dress-up (and toss or donate whatever you don't wear/use)
*take your journal and/or sketchbook to a park (observing social distancing, of course)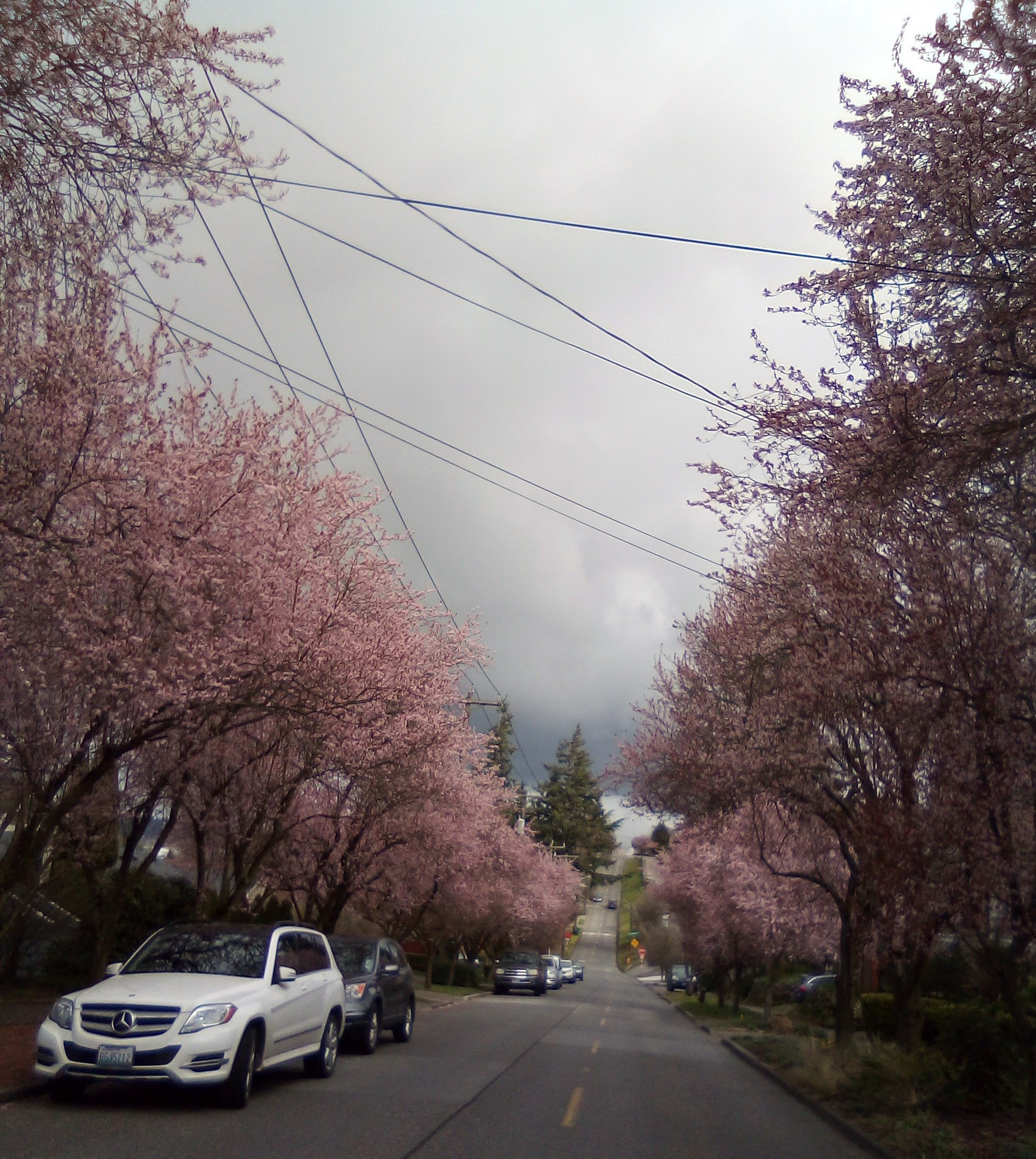 In Times of Difficulty, Use it.


Easy to say.
NOT always easy to do.
But that's what has been on my mind the last few weeks as the Coronavirus concerns have grown and the restrictions implemented here in Seattle and surrounding areas.
Coming face to face with issues we've never had to face, I find myself trying to somehow solve this unsolvable problem. My solutions have included trying to …
Get ahold of it ("I'm sure mega doses of Vitamin C will help me.")
Metabolize it ("MORE news is better. I'm sure of it … Maybe if I click and reclick for the latest news story I'll feel better …" 100's of clicks later … not so much.),
Fight it ("I'll just wash and wash and wash and wash …").
"Yes, and" my way around it ("What have I been wanting to do at home that being here SO much I can finally get to?")
And FINALLY accept it by incorporating a little bit of each of the above AND reading Julia's Cameron's section on Gain Disguised as Loss in The Artist's Way where she asks "How can this loss serve me?"
I am not one to Pollyanna my way through difficult situations and this is most definitely NOT to minimize the toll this crisis is taking on so many in our communities … Especially those who have tragically lost beloved family members to the disease … those who have seen their livelihoods disappear overnight … those who are homeless, those who live paycheck to paycheck and so on.
The crisis is real and the impact profound.
And yet …
And yet … I keep saying to myself … what am I supposed to do with this? With the situation I have been dealt? With THIS day?
A student pointed out the quote from Duke Ellington, "I merely took the energy it takes to pout and wrote some blues."
I don't know that I've been pouting, but I've been doing just about everything else.
So what would it look like if I USED my current circumstances?
Julia Cameron in The Artist's Way, Chapter 8, which we are synchronistically on this week (of course we are!) talks about Gain Disguised as Loss and says "The trick is to metabolize pain as energy." And to ask "How can this loss serve me?" Now, granted Julia is talking about when we have a creative loss, it can be helpful to ask these questions. However, I've been finding it helpful to apply that question to these extraordinary circumstances.
Here's what that looked like for me today:
*Instead of checking and rechecking news articles today, I reminded myself of how that constant clicking started to feel like crazymaker behavior to me. I was reminded of Julia's comment about how crazymakers do all sorts of creative blocking things. I thought "This Coronavirus is MY crazymaker" and it fits some of the categories Julia gives for crazymakers:
Crazymakers break deals and destroy schedules ("My schedule sure has been shot!)
Crazymakers spend your time and money ("Check")
Crazymakers create drama ("Um, yes … and am I feeding that drama or setting it down and doing something useful/anything else?!)
Crazymakers hate order ("Check" "Check").
and then ...
*I thought I could write about my conornavirus musings today. And did.
*I stopped in the middle of the road and took a picture of cherry trees (see above).
*I got out of myself and was of service to someone else.
*I worked on a project (just even a LITTLE bit) today I'd been putting off for ages.
*I re-watched a sweet video of this little girl whose reaching out to an older person at a grocery store changed both their lives for the better. 


I know there is more I can/could do. And it looks like I'm going to get the opportunity to uncover what that will be.
I look forward to hearing and seeing how you and your colleagues, friends and larger community make sense of this experience. Those creations will likely help us ALL make sense of the unimaginable.
Those poems, paintings, songs, plays, short stories are needing to be born.
Here's their chance.
Stay Safe and Well.


*******************************************************
We are going to be NIMBLE with our Spring/Summer Artist's Way Classes 2020. Since we don't know yet what the restrictions will be in terms of attendance, we are going to offer to have the classes be a mix of online and/or in person. We will plan for IN PERSON but if need be will jump to ONLINE until we can meet in person. I'll be an expert ZOOM-er by then, I'm sure!
Our Spring/Summer 2020 Artist's Way Classes are NOW Open for Registration! We appreciate you sharing about our upcoming Artist's Way classes (and the e-newsletter!) with folks you think might be interested in joining us this coming Spring/Summer. We could DEFINITELY Use the referrals this summer.


The Artist's Way
Section 1: May 1 - July 31
Fridays, 10:00 am - 12:00 pm
$395 (In person - possible online)
Note: No class June 5 and July 3
The Artist's Way
Section II: May 4 - July 27
Mondays,6:30 - 8:30 pm
$395 (In person - possible online)
Note: No class May 25
To register or for more information:
Thank you for sharing information about our classes with those who might be interested! Feel free to share via Facebook as well as on our Facebook Spring/Summer Artist's Way Classes 
Time to go within and listen to what is wanting to be born!
Best,
Kate
Kate Gavigan
Artist's Way Speaker and Instructor
Apron love.
That's where my creativity is sending me these days. And I am learning to not judge it.
Some days my creative spirit says "go learn that new Maverick's song on the Ukulele" or "go noodle around and try learning a song on your harmonica" or even "Take that Acting class with your FAVORITE instructor. You KNOW you want to!"
But the last few months, it's all about loving (and making) retro aprons.
My gateway drug to fabric obsession surfaced after coming upon the super sweet store Seattle Recreative. If you haven't heard of it, you are missing out on an adventure. They're a nonprofit in the Phinney Ridge neighborhood that takes in donated art supplies, fabric and all sorts of wonderfulness and then resells it at a deep discount to the creative folk (that's US!). I heard they were having a fabric sale – half off on already deeply discounted fabric – and I got that nagging "hmmmmm … now that sounds intriguing."
And I've learned to listen to that "hmmmmm" and (mostly) don't try to figure out where IT will take me. Now, I just baby step my way to it. Though it would be SO very easy to listen to that looming internal critic… "And why are you considering getting fabric, missy? Did you forget the last time you sewed was in high school sewing class when Mary Kumasaka tried to help you and you managed to put the sewing needle through her long nail" (thank GOODNESS for long nails! And for missing her finger).
But here's the thing … Now I stop, turn around and talk back to that voice...
"I think it's safe to return to the sewing machine. I think the statute of limitations on sewing crimes has passed (some 36 years later)…" and "You know what works for you … take the next baby step – just go to the sale and see if anything calls to you."
SO I got up early one chilly sunny Saturday morning and went to the sale heeding the fabric call. With my handy empty Frida Kahlo bag in hand ready to fatten up her image (maybe), the doors opened and I saw the mounds of glorious, wondrous fabric. I swear I could hear the angels soprano singing and the heavens humming "HMMMMMMMMMM …. YAYYYYYYYYYYYYYY".
You think I jest. But there is something that happens to me when I listen to that wee call that says "go explore that thing" … it's the feeling akin to downing a triple espresso or hearing your favorite musician playing at your beloved musical spot …" The goofy smile appears on my face and I'm in the giddy zone.
So away I went seeing what caught my retro apron maker eye and within an hour I was in the fabric bounty land. I sailed back home on the magic carpet of fabric goodies and gave them a nest in an old metal tin and I did the NEXT next thing. I grabbed an old retro apron of my moms and used it as a sample to make my very own apron.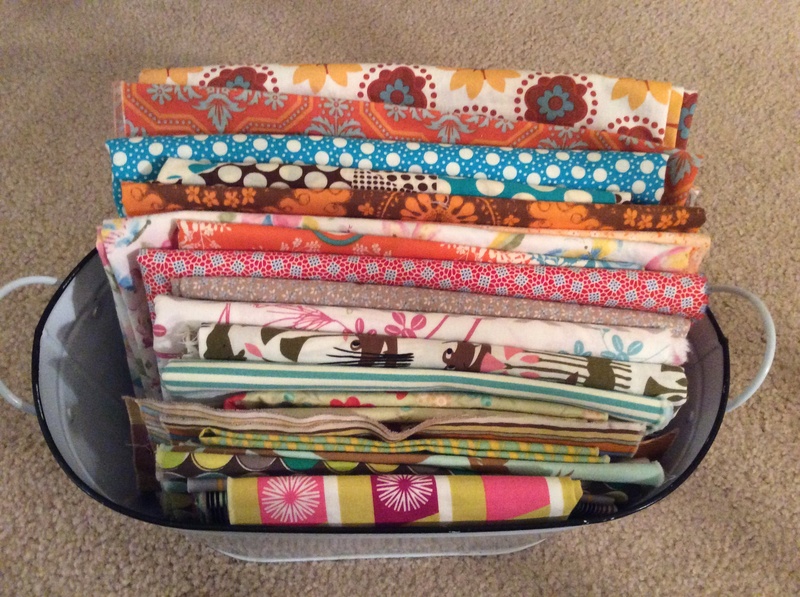 And here's the thing. It wasn't perfect but it was pretty sweet.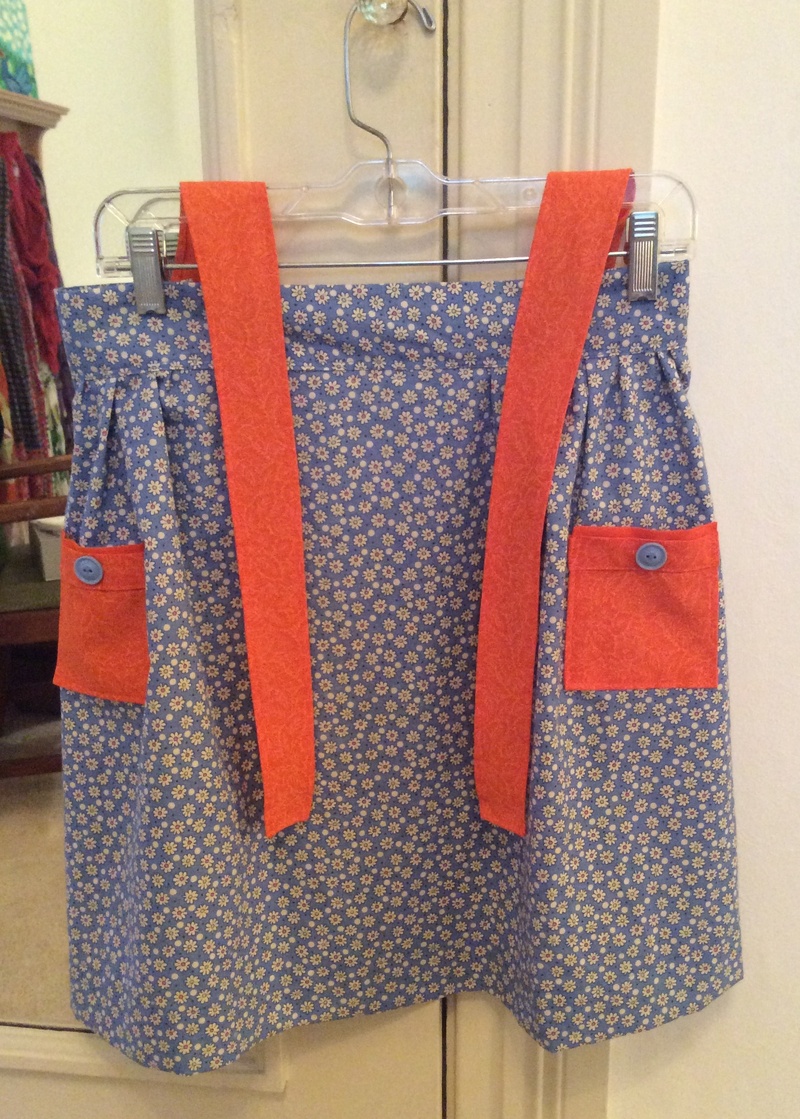 I also discovered that it's really helpful to have NEW companions with you as you navigate new creative waters.
When I worked through that first project, I remembered some wisdom that someone from Made Sewing Studio (a super cool sewing class organization/studio in Seattle) had shared something her grandmother had told her about sewing in straight lines "My grandmother said 'if someone can see your sewing stiches' they are standing TOO close." HA! My other "go-to" was from a book I read about doing things ugly and her suggestion was to call your seam reaper "your new best friend." It's amazing what a difference wee words of wisdom/encouragement like these can have on the fits and starts in the process of creation.
The voice I hear the most though is my mom's.
She was the first artist I met though she would be the last person to describe herself in that way ("Ohhh anyone can do what I do!"). She could bake, sew, cook, paint, knit, play piano … pretty much anything. But it was her sewing, in particular, that I was in awe of and she was the author of the apron that I was using as a pattern.
When I somehow managed to sew two pieces together that were clearly meant to be two separate ties and not one, I could hear her laugh with me (boy oh boy and what a laugh she has) saying "Now how did you do that? (laugh laugh laugh) That's ok, you can just rip it out … you just need to be sure that tie is to the left. You crack me up." When I finished the first one, I could picture her beaming with pride … a bit of reflection to the beaming I was doing myself.
And then the first apron led to the second and to the third … that's what I find with creative inspiration … it can propel you onward to the next cool thing …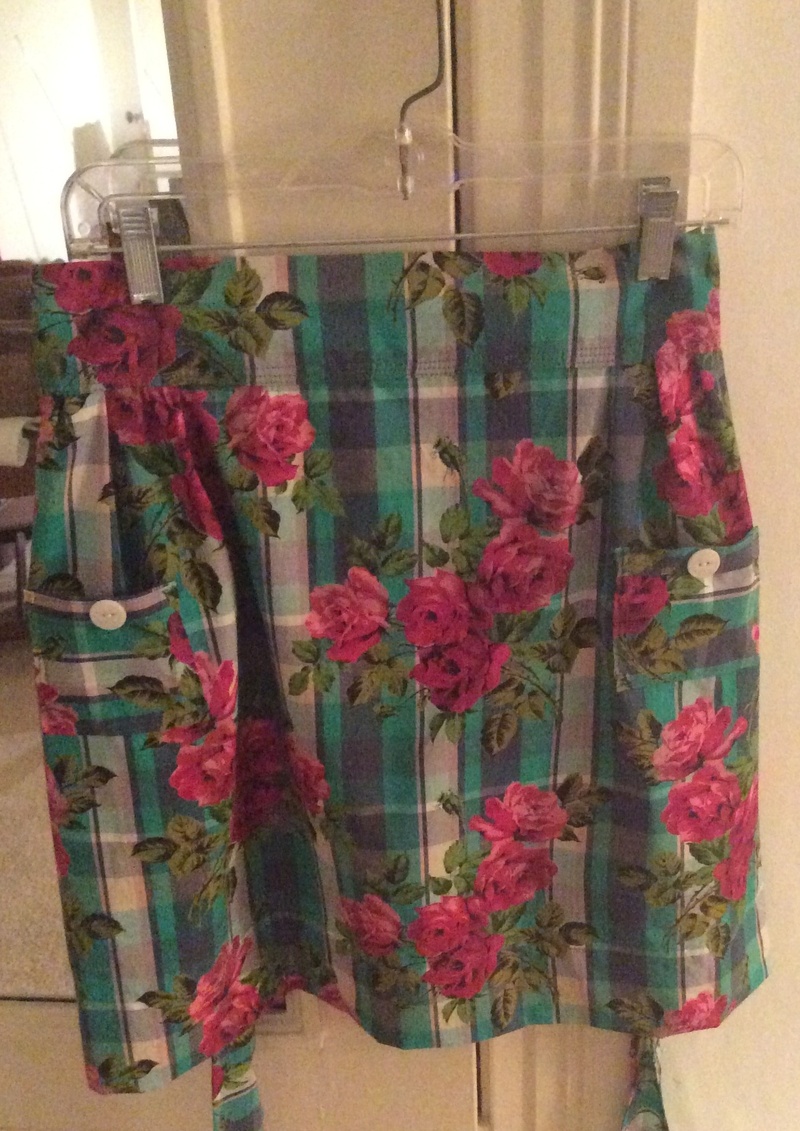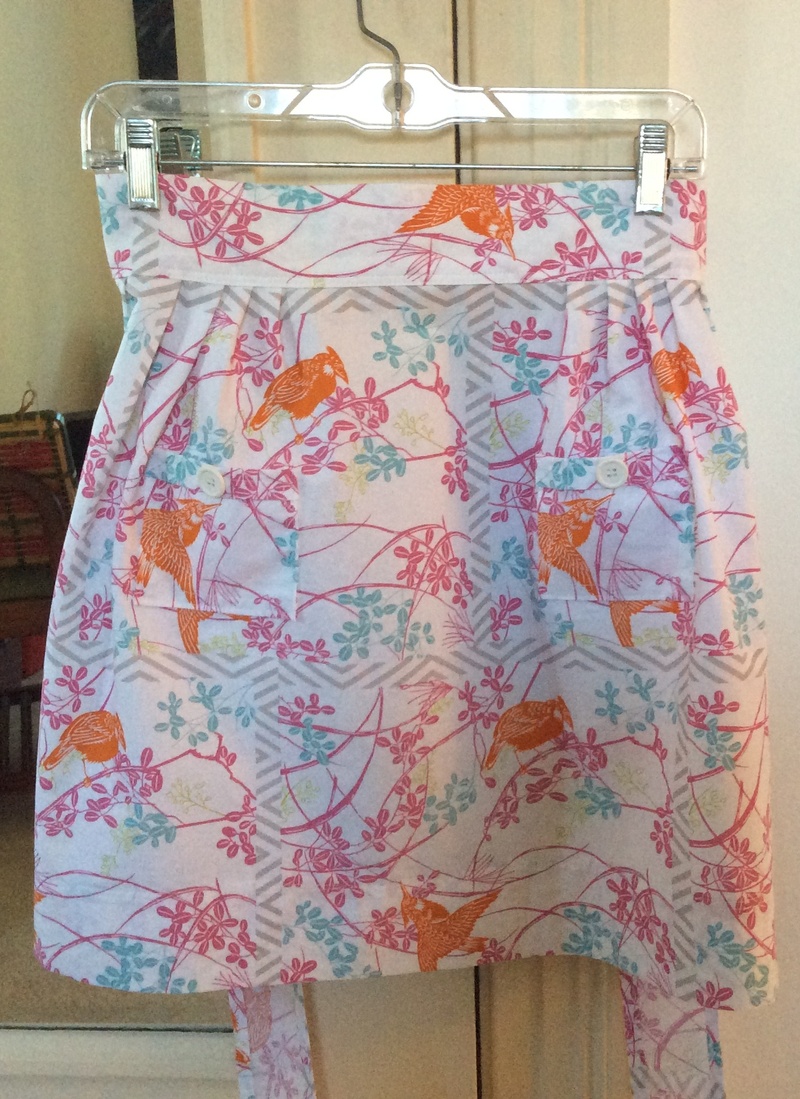 "I DID it!" I would say to myself when I would pass the completed apron du jour that I had hanging in my creative space.
"YOU did it!" the aprons replied back to me along with … "Thank you for giving me some life."
Because that's what exploring our creativity does (not causes you to hear aprons talking back to you but  ....)
It gives life.
To the item, to new ideas, to others who receive the gift or get filled up with the image of what you created. It inspires them to go explore their gifts, their quirky yearnings, their own "Hmmmmm's". Lately, I've noticed that I've had lots of other new ideas that I've been giving life to in my life both personally and profesionally. Is it a coincidence that those have been popping up just as I've been allowing myself the fun and joy in creating new aprons? I think not.

So much to be thankful for.
And I am … VERY thankful for all those who are willing to create and share their talents with all of us.
Such a gift.
Thank YOU!
To check out my available aprons for sale, go here.

**********************************************
Our Spring/Summer Artist's Way Classes are NOW OPEN for Registration with classes beginning beginning May, 2016. More info here.

This wonderful tidbit below on The History of Aprons was shared with me from one of our Artist's Way students who found it on the internet. Thank you, Kendra!
"The History of 'APRONS'
I don't think our kids know what an apron is. The principle use of Grandma's apron was to protect the dress underneath because she only had a few. It was also because it was easier to wash aprons than dresses and aprons used less material. But along with that, it served as a potholder for removing hot pans from the oven.
It was wonderful for drying children's tears, and on occasion was even used for cleaning out dirty ears.
From the chicken coop, the apron was used for carrying eggs, fussy chicks, and sometimes half-hatched eggs to be finished in the warming oven.
When company came, those aprons were ideal hiding places for shy kids..
And when the weather was cold, Grandma wrapped it around her arms.
Those big old aprons wiped many a perspiring brow, bent over the hot wood stove.
Chips and kindling wood were brought into the kitchen in that apron.
From the garden, it carried all sorts of vegetables. After the peas had been shelled, it carried out the hulls.
In the fall, the apron was used to bring in apples that had fallen from the trees.
When unexpected company drove up the road, it was surprising how much furniture that old apron could dust in a matter of seconds.
When dinner was ready, Grandma walked out onto the porch, waved her apron, and the men folk knew it was time to come in from the fields to dinner.
It will be a long time before someone invents something that will replace that 'old-time apron' that served so many purposes.
Send this to those who would know (and love) the story about Grandma's aprons.
REMEMBER ...
Grandma used to set her hot baked apple pies on the window sill to cool. Her granddaughters set theirs on the window sill to thaw.
They would go crazy now trying to figure out how many germs were on that apron.
I don't think I ever caught anything from an apron - but love."
Julia Cameron in her book "The Artist's Way" describes an Artist's Date as a key tool in recovering our creativity. Simply put an Artist's Date "is a block of time, perhaps two hours weekly, especially set aside and committed to nurturing your creative consciousness, your inner artist. In its most primary form, the artist date is an excursion, a play date that you preplan and defend again all interlopers." The benefits of Artist's Dates are numerous but one of our favorites is that Artist's Date feed our creative well of images which inspire us in immeasureable ways!
Artist's Dates can be incredibly fun but we often hear from our students that they feel stymied when thinking up a fun Artist's Date. The cool thing is an Artist's Date can be whatever sounds like fun to you. Some of our ideas below may strike you as great ones while others ones not so much ... just listen to what sounds like fun FOR YOU. And that might even change on your Artist's Date - you might head out to do one and realize half way through "hey, this isn't fun" and the great thing is since you are doing it solo you can change your mind and head off in another direction.

Here are just a few ideas for a fun Artist's Date ...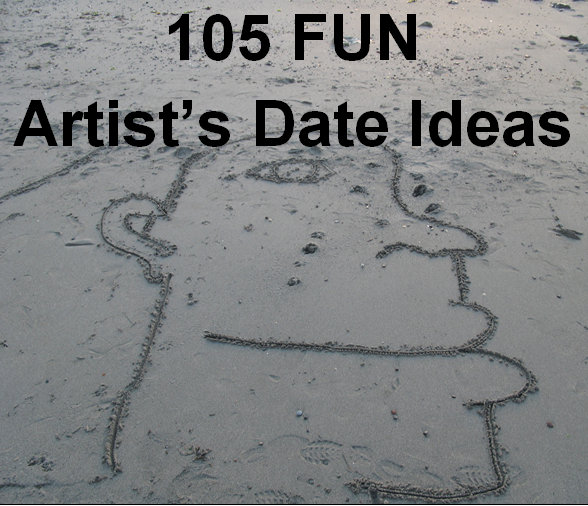 1. Go to the beach and make a picture in the sand with a stick.
2. Check out an art supply store and just wander around and see what catches your eye. Two of our favorites: Seattle Recreative and Artist's and Craftsman.
3. Take your camera on a walk and snap on what inspires you
4. Go swing dancing. Century Ballroom in Seattle has great classes and dances in all types (salsa, swing, waltz)
5. Go to the beach on low tide and see what critters are showing up in the tide pools
6. Check out a local museum and only look at what art calls to you. The Frye Museum is one of our favorites.
7.Take a notepad with you to a coffee shop and draw whatever calls to you
8. Learn a song on the harmonica - youtube is a great place to learn the basics of how to play
9. Go to a music store and look at all the cool instruments (and allow yourself to strum some even if you have never played one before). American Music in Seattle has some great instruments to check out.
10. Go to a slam poetry event. In Seattle, check out Seattle Poetry Slam.
11. Embrace your inner kid and go swing on a swing set or go down a slide
12. Wander around in a part of town you don't know well and stop in shops that call to you
13. Take a tour of the little library stands in your town. Not sure where they are - click on this map and type in your city.
14. Sit at a coffee shop and watch the fashion as it walks by
15. Go to a hat store and try on hats
16. Walk through a cemetery and create a story on what you see on the headstones
17. Go to a bead store and find some cool beads
18. Check out the pretty yarn at a yarn store
19. Go to a fish ladder and watch all the fish coming and going
20. Find an outdoor pool and go swimming.
21. Hang out at a park and observe how kids play
22. Go to a upholstery store and find cool fabric and reupholster a foot stool or a chair
23. Go to a park and watch the birds.
24. Go to your favorite ice cream shoppe and get a root beer float.
25. Check out places where you can have the sensation of flying - Ifly in Seattle is one option.
26. Try out an Acting Class sample and embrace your inner actor. Freehold Theatre in Seattle offers free quarterly acting class sample events.
27. Get your new favorite book and sit in a park and read for a whole hour (or two!)
28. Go to a movie by yourself (maybe treat yourself to a special movie house experience). The Big Picture in Seattle can be fun.
29. Go listen to some live music. Check out some local musicians at small music events like at Dusty Strings in Seattle.
30. Walk on the beach in your barefeet and pick up some rocks to skip.
31. Go on a whale watching tour.
32. Walk in the woods and listen to the sounds around you.
33. Take a rowboat out for an afternoon row. The UW has a great place you can do this.
34. Buy a razor scooter or borrow one from a friend and tool around on one (the stretch along Alki in Seattle is perfect for this).
35. Take a ferry ride (Bainbridge - 1/2 hour ride - Vashon - 20 minutes) and check out the local scene on the destination side.
36. Drive to an out of the way town and take a stroll around the town. North Bend can be a fun place to do this.
37. Try out a pottery class.
38. Go to that fancy clothing store you are too shy to check out and go in and allow yourself the fun of trying on some pretty/stylin' clothes (you don't necessarily have to buy anything) and notice what you like.
39. Go to the library or sheet music store and pick up some new piano music to try out.
40. Go stand up paddle boarding (perfect Solo event!)
41. Grab a basketball and go to your local neighborhood park and shoot some hoops (maybe pair it with watching your favorite basketball movie right before)
42. Check out a great documentary (POV has some good ones)
43. Take your computer to an inviting space (coffee shop/restaurant) and give yourself an hour of guilt free Pinterest watching/inspiration
44. Google the local film festivals in your town and schedule them into your calendar for a fun Artist's Date
45. Find an old piece of furniture and go to your paintstore and find the perfect color for it and go to town painting it.
46. Allow yourself to paint, draw badly - have fun with it!
47. Go to the art store and get some coloring books (they are the RAGE these days - especially for adults). If the adult coloring books don't call to you, allow yourself to pick up a kids' one and have fun.
48. Go to a local Goodwill and find pretty vintage fabric that calls to you and make something (apron, scarf)
49. Go to your local hardware store and find some wood and make something - art or birdhouse or?
50. Go to your local hardware store and browse. One of our favorites in Seattle is Hardwicks.
51. Find out about the local farmers markets and go and check out all the wonderful produce, fleurs and crafts.
52. Go to a gourmet-ish shop and buy some delicious new ingredients and make yourself a tasty dinner.
53. Make a list of restaurants that you have been wanting to try and give yourself the gift of going to one solo.
54. Take a drive to the mountains (we have beautiful Mt. Rainier in our backyard)
55. Go Snowshoeing or skiing
56. Go Snow inner tubing
57. Go to a water park and go on whatever rides YOU want to go on for as long as you want to. We have Wild Waves here in Seattle in the Summer months and Great Wolf Lodge in the Winter months
58. Grab a tennis ball and go to a court with a board and hit balls against yourself.
59. Go to a basketball game.
60. Go to a baseball game - minor leage games can be a lot of fun too
61. Go to a play.
62. Check out a local musical
63. Go to an Open Mic Night.  Conor Bryne's in Ballard has a great Open Mic on Sunday nights.
64. Go play putt putt golf.
65. Go to a Golfing driving range and hit some balls
66. Go to an outdoor Art exhibit. The Seattle Art Museum's Olympic Sculpture Park is pretty cool.
67. Go to the Aquarium. Check out Seattle's Acquarium.
68. To to your outdoor Public Market and wander around - check out Seattle's Public Market.
69. Go to the Zoo and hang out with your favorite animals. See Woodland Park Zoo.
70. Get your flight on - go see some cool planes - like at The Museum of Flight.
71. Go to the Arboretum and see what is in bloom.
72. Check out some beautiful Japanese gardens - here in Seattle Kubota Gardens and the Japanese Garden
73. Go on a fun ride. Ferris Wheel, Roller Coaster.
74. Go sailing. In Seattle at The Center for Wooden Boats on Sundays you can sail for free. Check it out here.
75. Go out for some delicious Dim Sum.
76. Go look at some cool glass art. Chihuly Glass Exhibit has some amazing art,
77. Be a tourist in your own town - go on a local tour of your hometown offerings. Check out the Ride the Ducks in Seattle and ride an amphibious landing craft into the water.
78. Go to a ballet
79. Go to the Opera
80. Go to a wine tasting
81. Check out an independent record store and listen to and/or purchase some new/old music
82.Take your knitting to a favorite spot and knit away
83. Take your computer to a favorite spot and find some cool drawing online sites and draw away.
84. In fruit season, go pick some blueberries, strawberries, blackberries
85. Visit an organic farm and go on a tour
86. Treat yourself to a sweet on your Artist's Date walking outing (ice cream cone/gluten free pastry/tasty coffee)
87. Go to an old junk store and admire the beautiful old handcrafted furniture
88. Go to a jewelry store and notice which jewelry calls to you (maybe it'll inspire you to make some)
89. Go wonder around a plant store and take in the sites (maybe treat yourself to a coffee/drink as you do so). We have several lovely garden stores in Seattle. Swansons Nursery is pretty special.
90. Go to a used bookstore and see what catches your eye.
91. Go check out open houses in your neighborhood and admire the beautiful homes in your area
92. Go to some yard sales and allow yourself to choose one or two things to buy that just delight you.
93. Declutter your space and make room for one special item that makes you smile.
94. Go to the Library and find some movies that really call to you and give yourself permission to watch one for your Artist's Date.
95. Go through your closet and choose one dress up item and wear it out to lunch/dinner by yourself
96. Go to a pet store and hang out with some pets and maybe go read about them afterward
97. Find a local waterfall and sit by it and observe the wonder. Snoqualmie Falls in Washington State is beautiful.
98. Check out a local History museum such as Mohai.
99. Check out a public garden like The Bloedel Reserve on Bainbridge or the Bellevue Botanical Garden
100. Go for a bike ride.
101. Go roller skating.
102. Sit in a coffee shop and observe people and imagine if they were a character in a book you were writing who would they be - what is their backstory and start writing whatever comes to mind (dialogue too!)
103. Go running in a beautiful area
104. Go for a walk in nature and choose your favorite tree/plant and read more about it later
105. Walk through a p patch vegetable garden and be inspired by how folks designed their plots
We keep adding more ...
106. Go Fishing
107. Kayak
108. Go on a train ride
109. Take a horse riding lesson
110. Go fly a kite
111. Go to a horse show or rodeo
112. Go see this amazing horseman in person - Buck Brannaman - he gives horse clinics and you don't have a horse to go observe (usually $30 a day to watch him train horses and their owners). He was the inspiration for the movie "The Horse Whisperer" and his horse teachings are more like "life teachings." His clinic schedule is here.
113. Go to the Library and select four random music CDs
114. Go to a parade
115. Go to a makeup counter and have a makeup DO-Over
116. Go Ice Skating
117. Do a Singing Lesson online
118. Go to a thrift store and have fun pairing mismatched outfits and/or allow yourself to try on things you would normally NEVER wear!
119. Go out on a paddleboat by yourself and notice the nature around you
120. Take in an Improv show - Unexpected Productions and Jet City Improv are two local Seattle ones.
121. Go to Tinkertopia - a creative reuse store - in Tacoma.
122. Like Poetry? Check out some of the poetry stores in town including the very cool Open Books (poetry bookstore). They have a bunch of great poetry reading events! They are located in Wallingford.
More to Come!


Our Spring/Summer 2017 Artist's Way classes will open for Registration on February 17 with classes starting the beginning of May. For more information on our classes, go to: Class Offerings