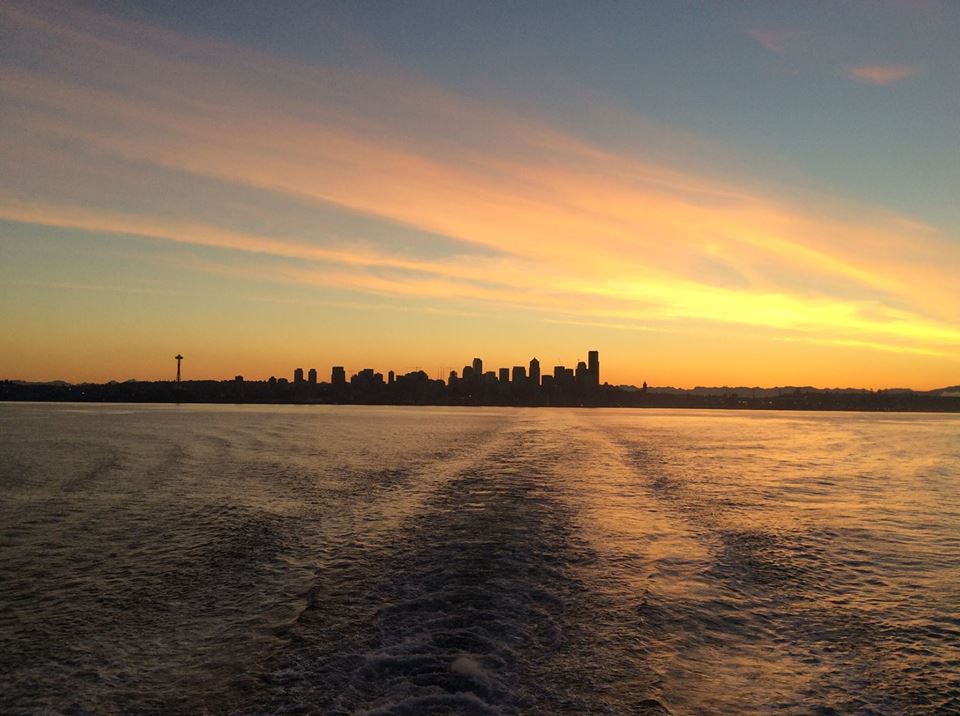 When we were asked to shelter in place two weeks, I felt a little nervous, curious and a smidge of hopeful as to how it would be to navigate THAT much home time. But I then summoned up my best inner Bart Simpson "Let's DO this!" enthusiasm. When I heard we'd be doing another month of home time, my response felt a little more like Maggie Simpson's squeaking out through her pacifier "CAN (squeak) we (squeak) do this?"
My NEXT thought was (a la Jaws) "We're going to need a bigger boat.."
Do I mean literally a bigger boat/house? In my dreams that'd be ideal ... but not likely. Replace "boat" with "breath" and that's more like it.
I realized that I'd been holding my breath a bit the last few weeks seeing a little light at the end of the two week tunnel. I could appreciate the need to extend the stay, but also realized I was going to need to adapt again to this new reality. Here's the thing ... I was going to need to take a much bigger breath ... probably loads of little breaths ... and the breaths might be actual ones (funny how I hold my breath often in new situations) and also breathe in and speak out new ideas of how to navigate these unchartered waters.
So here's my plan:
1) Remember "JOY" is STILL allowed to be in the house.
There have been moments over the last two weeks where I've felt guilty for allowing for play and joy. When so many people are suffering in so many different ways, it's easy to think we need to do the same. I am finding the opposite. In making room for joy and play, I'm MORE able to be present (and have empathy) for others than I would be otherwise. I experimented with PLAY on an artist's date last week where I went for a walk and found an abandoned train. I realized it was on my bucket list to jump a train. I decided to leap at the chance and hung suspended by a ladder and selfie'd that item off my list. (see below). I cracked myself up and shared it with friends and got smiles in response.
2) "Go where your creative impulse is leading you."
The last few weeks it's been taking me to Italy. Perhaps it's because my heart has been going out to all those affected by the coronavirus including all of those in Italy. Seeing the ways in which Italians have embraced their creativity to comfort and heal their fellows has been uplifting. In solidarity, I've taken to using the free Duolingo app and trying on Italian. I found myself wanting to hear some Italian singers and synchronistically a friend sent me (out of the blue) a link to Sour Kristina singing on the Italian version of The Voice. Link below. She's my new favorite rock star.
3) Walking is my new best friend.
Since like you, my outdoor options have been limited, walking has been a daily ritual. However lately, I was starting to even weary a bit of that. BUT then Julia Cameron to the rescue! Rereading Chapter 11 in the Artist's Way, Julia talks about the value of movement. She says "the act of motion puts us into the now and helps us to stop spinning." AND "Exercise is often the going that moves us from stagnation to inspiration, from problem to solution, from self-pity to self-respect. We DO learn by going. We learn we are stronger than we thought." It was just the medicine I needed to lace up my sneakers with a renewed sense of eagerness.
Julia notes that "the stringent requirement of a sustained creative life is the humility to start again, to begin anew."
I'm doing that today ... beginning anew ... for another month ... or however long it takes.
I'm willing to be a beginner again in these new, extraordinary times. I look forward to hearing how you're navigating these waters. Take CARE!
Enjoy the creative links below.
Buonanotte!
Warmly,
Kate
Kate Gavigan
Artist's Way Speaker and Instructor 
Photo above of Seattle by Kate Gavigan
Photos below: Italians performing in quarantine and Kate playing around on a train (stationary!)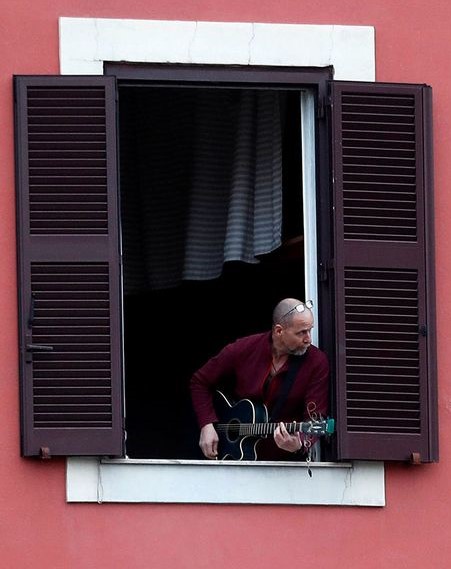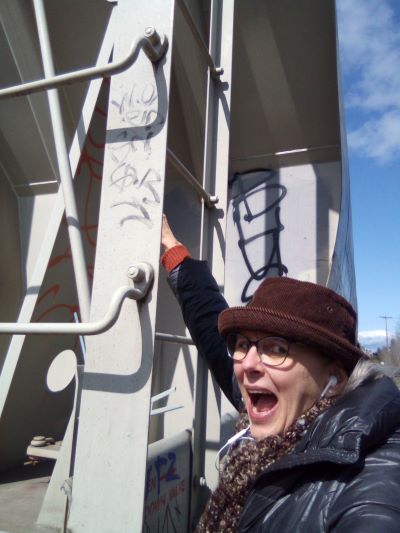 Categories: None