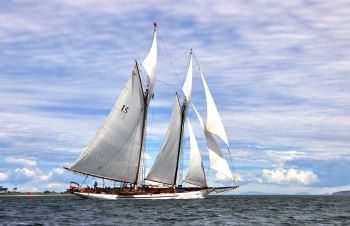 "My isn't she yar!?"


I've been itching for a sailboat ride - BIG time. I'm not sure why exactly. Some of it makes sense. I love the water, always have. Adventure, pirate movies were a childhood favorite. But it feels like something else, too. I've had a number of close people in my life move out of Seattle lately so maybe it's about wanting to actually ride the metaphor of folks sailing away? Whatever it is, I'm ready to scratch it.
Hmmm but where to begin? I listened to Christopher Cross' Sailing, I watched sailing vlogs, I made it part of my Artist's Date to ask around for boat charters. As synchronicity would have it, I was directed at Shilshole to a sandwich board for Sound Experience. I checked out the website and there was HER picture and her name, "The Adventuress".
JUST want I had in mind - part pirate and part explorer vibe with a name I'd willingly have as MY nickname. I was ready to SIGN UP but ... hold up ... yup, Covid strikes AGAIN. They're having to hold off on their public charters for the immediate future.
So what's a gal to do? (tapping fingers, tapping fingers, tapping fingers ... snaps fingers!)
"OK, if I can't go out on the Adventuress right now, I can at least BE the Adventuress!"
Covid Critic: "Is that still allowed?"
Adventuress Me: "Ummmm, YES!!"
That sailing seeking baby step got my adventure seeker ears and eyes open. It also helped to remember Julia Cameron's encouragement that when you are wanting to expand your creative output to continue to "fill your well with images." So, if my Adventuress sailing adventure would have to wait, then what's next?
As synchronicity would have it (again!), I had a family member inquire about some genealogy research I had done on the Irish side of my family. It got me going on a long set aside project to finish the Irish Gavigan Family Tree (almost done!) AND led me to reminisce on the Irish friends I'd met when I did trainings in Ireland. I realized it'd been many many years since I got to chat with this one Irish friend in Derry and in no time we were scheduled for a Zoom call.
We had a delightful chat with images abounding including hearing my friend's great laugh, seeing a glimpse of his sweet pup and being given encouragement for the impending rains.
Me: "So how are you dealing with the impending Irish Rain?"
Friend (Insert Irish accent): "Awwww Kate, you know there's no bad weather, just bad gear."
Me: HaHAHAHAHAHAH.
It also got me to to to REI and buy those REI rain pants I've put off getting for years and now I'm OUT walking/adventurizing (ESPECIALLY in the rain).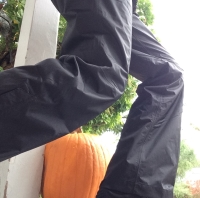 So now?
I haven't abandoned the sailboat ride plan or finished metabolizing my feelings of loss around friends' departures (thank YOU morning/mourning pages!), but all of it is USE-ful. I may wait for the Adventuress or perhaps will look into options down at the pier. But here's the amazing thing about those baby steps, instead of taking me out to Shilshole Bay, I got to go to IRELAND (in several ways) ... apples instead of oranges.
Where are YOUR baby steps taking you?
Adventure Meditation from Julia Cameron's Daily Reader:
"Humans are by nature adventurous. Watch a toddler expand her territory a wobbly step at a time. Watch a teenager test curfew. Watch an eighty-year-old grandmother sign up for an art tour of Russia. The soul thrives on adventure. Deprived of adventure, our optimism fails us. Adventure is a nutrient, not a frivolity. When we ignore our need for adventure, we ignore our very nature. Often we do exactly that, calling it "adulthood" or "discipline." When we are too adult and too disciplined, our impish, childlike innovator years to rebel."
Hope you stay healthy and INSPIRED and Adventuress as we head into Fall!
AND our WINTER 2021 Artist's Way Classes are NOW OPEN for Registration - ALL ONLINE/ZOOM - THREE (count 'em 3!) Classes!

We hope you can join us for one of our classes!


Categories: Blog Entries