The exercise was to write down things you loved.
No limits except do it in 4 minutes.
I love these exercises.
For the smile it puts on my face when I do it. 
For the tickle I feel when I hear fellow students giggle as they air their "loves."
And the responses? Glorious.
The smells, textures, ideas, and feelings that surface are enlivening.
The discoveries from some students that "… and all of these are free!"
But best of all, I love the surprises.
My surprise this time was remembering the perfect salad.
I love a perfect salad.
And there was ONE perfect salad that came to mind instantly.
I'd turned 40 and gone off for 3 weeks by myself to Ireland to travel around and have an adventure. It was a wonderful trip, full of new friends, green filled sights, images of dolphins on the west coast and of course … the salad.
I'd been craving vegetables. For those who've been to Ireland "back in the day", searching for a PCC/Whole Foods version for vegetables was "challenging" to say the least (or maybe I didn't know where to look).
The fact was 2 weeks in and counting, I was seriously craving a salad.
Greens, and the crunch of small carrots, nuts, olive oil/balsamic vinegar dressing, ripe tomatoes danced in my head.
Food was always serious business (and comfort) in my family.  Homemade breads, hand kneaded pizzas, fresh soups ... all courtesy of the chef gene my Croatian grandfather had handed down.
So I was very excited on one very rainy (shocking, I know) day in the north of Ireland somewhere up near Donegal,  I came upon a pub sitting on the blustery coast. I scanned the menu and became downright giddy when I saw "salad." 
A Caesar Salad, no less.
The king of salads.
I ordered.  Salivating a little. Then some more. And even more.
It finally arrived without king fanfare except for my "thank you thank you thank you" horn blaring.
It wasn't exactly what I expected. 
It had greens alright, but apart from the tomotoes that was about it on the vegetable front. 
I almost thought to send it back but then heard the "Come ON… when in Rome …"
And I took my first bite.
The lettuce was loaded in what seemed like a pound of hot bacon, crunchy homemade croutons, roasted walnuts, tomatoes and smothered with a homemade Caesar dressing.
Did I mention it'd been really cold outside?
I was in heaven. 
It may not have been what I had been calling out for, but it scratched my itch for something comforting.
Sometimes I forget that what I think I want isn't necessarily what the universe decides to provide.
And sometimes.
Often.
It's even better.
So today my artist date was to create the perfect salad.
Armed with the ability to improvise ... in addition to the bacon, tomatoes, homemade croutons, and Caesar dressing, I added goat cheese, olives, pepperoncini, and sunflower seeds.
I had my first bite and I savored it.  I could feel myself back in that pub – outside - the cold, sideways wind blowing to and fro, the fireplace blazing in the pub and me with my toasty, tasty, fatty salad.
And I loved it.
All over again.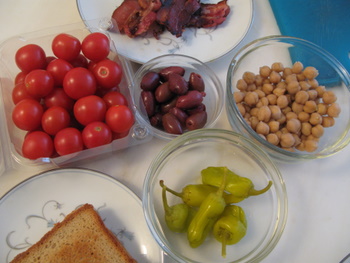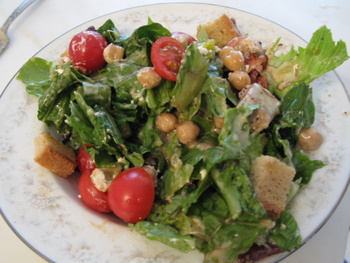 Categories: None