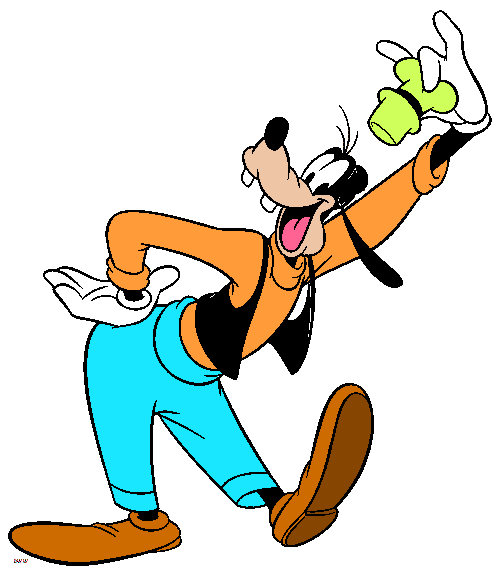 I was one part in love with Goofy and one part horrified.
Ok maybe two parts horrified.
Come ON, he was a big 'ol goof ball and darn if he wasn't even embarrassed by it.  How horrible is that!!
This is a familiar feeling when I embrace my inner Goofy – love it, hate it, and simultaneously embarrassed by it.
In an acting class I dared myself to take, my fellow students and I were ordered (strike that) … instructed … to all stand in one corner as a clump. We were informed that this was going to be one of several acting exercises that we'd start the class with for the next 8 weeks. One by one we were to make some kind of movement, accompany the movement with a sound and then move from one corner of the room to the other corner making that sound.  Our fellow intrepid (hopefully – as I hate being intrepid ALL by my lonesome) students would follow us, imitating our sound and movement.
You want to see 12 people wish an earthquake would happen and swallow them up? 
Ask them to do that.
Oh wait a minute, maybe that was just me.
Well, what-EVER it sounds SO much easier than it is.
My acting process in that moment … Oh yeah, I have a PROCESS alright … Maybe not the one the instructor intended … MY process is the following:
Ask myself do I go FIRST ...
a)      So all the sounds aren't taken up (that would be all the sounds apparently IN THE UNIVERSE!!!) or
b)      So others will be so preoccupied with their own fear that they won't recognize my sound is stupid and/or the same one they'll likely see in the next 5th, 6th or 7th classes
OR
Do I go LAST
a)      So I can riff off (ok ok STEAL) someone else's sound or
b)      In the hopes that the instructor will overlook that I didn't go already.
Stanislavski it is not but it is "being in the moment" which I gleaned from bathroom stall acting student chat is VERY important (Student #1: "I just wasn't in the moment" – Student #2: "I KNOW, like yesterday, I TOTALLY was in the moment."
What is this MOMENT?!!!
But then there it was.
On the last day of our 8th week session, we marched lemming style to the corner waiting for our final movement/sound cliff dive.  Instead of doing some semi-low key and heavily planned "Eek, eek" sound and flapping my arms like a bird ("See you REALLY want to take an acting class, now, huh?";), I did a new thing. Instead of waiting to weigh my process options, my body leapt forward as though possessed by the acting confidence of Marlon Brando (ok, maybe more like Gilligan) … that's not important … but what WAS important was that …
I didn't think.
I didn't prepare.
I didn't look over at someone's paper/movement and steal.
I started across the floor and listened to what my hands wanted to do. They morphed into jello hands (like jazz hands only SO much better) flailing like a drunk swan with my legs trying to keep up walking in part gorilla/part Seinfield character bad dancer move (ok, maybe I stole from Elaine) while eliciting a "mooga mooga" sound.
I made it across the floor and tapped the far end of the wall feeling as victorious as any wanna' be Michael Phelps world record breaker slapping the water:
"I did it.  I DID it.  I DID IT!!!!"
Ok, I have no idea what I did. 
But I experienced something.  Freedom from self-consciousness for one moment allowed me to freely and fully express myself.
And I LOVED it. Goofy might've even high fived me.

Before I took the class, I heard a famous actor say that "Self-consciousness is death for an actor."
Hearing this I was stopped in my tracks thinking, "That is definitely not good news for me."
Maybe it's better news than I thought.
Categories: None