We are used to the large leaps. Quit that nasty job. Divorce the annoying spouse. Move across the country to spread your wings because you know "it's going to be better …. over THERE." And maybe it will or maybe it won't.
But the idea of the small steps? Where's the fun in that? Where the adrenalin rush? The feeling of "I'm DOING it! I'm DOING it! I'm DOING it!" Wait "what am I doing?"
Exactly.
I used to be a huge fan of the large leaps. I've done my share of quitting the job(s), of moving across the country at the drop of a hat, or of saying "Cut it ALL off!" to the hairdresser. But then I heard tell of this thing called "small steps". Baby ones, in fact. And I was intrigued.
I heard that if I took small steps in the direction of where I might be thinking I might want to go, I could listen to doors opening (or not budging) and head off accordingly through that door or to the one off to the side I didn't even see was open a smidge.
See there's thing that I noticed started happening when I took small steps – these synchronicities starting taking place. All over the place … one of my faves …
I had been delivering trainings locally and nationally and had started having this whimsy of an idea "boy it'd be fun to teach one of these in Ireland where my grandpa Pete was from." I mentioned my fleeting thought to a colleague who was connected to some international trainers. She ran into them at a conference and had her own "baby step" moment when asked if she'd like to deliver a talk in Ireland saying "well now that you mention it I would and I'd also like to bring a colleague and deliver our training as well." Within 6 months I was in Ireland (in Derry no less – a stones' throw from my grandpa's home turf in Donegal) training Irish folks.
And voila. I was a baby step convert.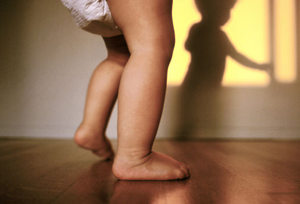 What I have loved about the baby step moves, is that it allows for synchronicity in a way I could not have orchestrated in a large leap move. Could I have known that someone in Derry wanted me to train? If I'd even been able to contact someone in Derry would they have warmly invited me to come? Or did the process of my simply taking the next small step lead to greater things that I could have imagined.
Yes, that.
And it's not always like that. Trips to Croatia and Barbados have not materialized out of thin air (yet). But when I take the small steps I am rarely disappointed. And sometimes I have to remind myself. Just today, I was lamenting how I'd not taken a lot of steps toward auditioning lately despite my fresh off the press headshots arrival in my inbox. Then I thought, wait a minute – I'm driving over to get my favorite shampoo which puffs up my hair so that it looks more like it did in my headshots.
That counts, people. That is a baby step. OK, I may be saying that mostly to myself. And I do. And I need to. I need to remind myself that I can take those baby steps and they all add up – they bolster me – shore me up so when I take the next step (print up more of the headshots), I feel the full force of my auditioning prowess ready to roar.
So trips to Ireland, trips to the hair salon. All count. And these baby steps experiences?
They are indeed a trip.
The best ones I've found.
Categories: None