Julia Cameron in her book "The Artist's Way" describes an Artist's Date as a key tool in recovering our creativity. Simply put an Artist's Date "is a block of time, perhaps two hours weekly, especially set aside and committed to nurturing your creative consciousness, your inner artist. In its most primary form, the artist date is an excursion, a play date that you preplan and defend again all interlopers." The benefits of Artist's Dates are numerous but one of our favorites is that Artist's Date feed our creative well of images which inspire us in immeasureable ways!
Artist's Dates can be incredibly fun but we often hear from our students that they feel stymied when thinking up a fun Artist's Date. The cool thing is an Artist's Date can be whatever sounds like fun to you. Some of our ideas below may strike you as great ones while others ones not so much ... just listen to what sounds like fun FOR YOU. And that might even change on your Artist's Date - you might head out to do one and realize half way through "hey, this isn't fun" and the great thing is since you are doing it solo you can change your mind and head off in another direction.

Here are just a few ideas for a fun Artist's Date ...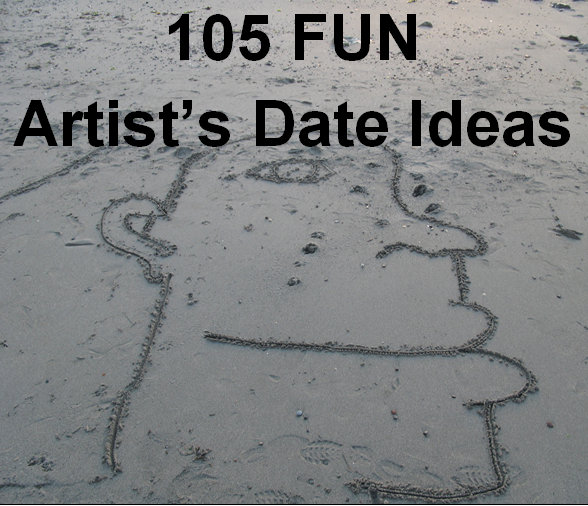 1. Go to the beach and make a picture in the sand with a stick.
2. Check out an art supply store and just wander around and see what catches your eye. Two of our favorites: Seattle Recreative and Artist's and Craftsman.
3. Take your camera on a walk and snap on what inspires you
4. Go swing dancing. Century Ballroom in Seattle has great classes and dances in all types (salsa, swing, waltz)
5. Go to the beach on low tide and see what critters are showing up in the tide pools
6. Check out a local museum and only look at what art calls to you. The Frye Museum is one of our favorites.
7.Take a notepad with you to a coffee shop and draw whatever calls to you
8. Learn a song on the harmonica - youtube is a great place to learn the basics of how to play
9. Go to a music store and look at all the cool instruments (and allow yourself to strum some even if you have never played one before). American Music in Seattle has some great instruments to check out.
10. Go to a slam poetry event. In Seattle, check out Seattle Poetry Slam.
11. Embrace your inner kid and go swing on a swing set or go down a slide
12. Wander around in a part of town you don't know well and stop in shops that call to you
13. Take a tour of the little library stands in your town. Not sure where they are - click on this map and type in your city.
14. Sit at a coffee shop and watch the fashion as it walks by
15. Go to a hat store and try on hats
16. Walk through a cemetery and create a story on what you see on the headstones
17. Go to a bead store and find some cool beads
18. Check out the pretty yarn at a yarn store
19. Go to a fish ladder and watch all the fish coming and going
20. Find an outdoor pool and go swimming.
21. Hang out at a park and observe how kids play
22. Go to a upholstery store and find cool fabric and reupholster a foot stool or a chair
23. Go to a park and watch the birds.
24. Go to your favorite ice cream shoppe and get a root beer float.
25. Check out places where you can have the sensation of flying - Ifly in Seattle is one option.
26. Try out an Acting Class sample and embrace your inner actor. Freehold Theatre in Seattle offers free quarterly acting class sample events.
27. Get your new favorite book and sit in a park and read for a whole hour (or two!)
28. Go to a movie by yourself (maybe treat yourself to a special movie house experience). The Big Picture in Seattle can be fun.
29. Go listen to some live music. Check out some local musicians at small music events like at Dusty Strings in Seattle.
30. Walk on the beach in your barefeet and pick up some rocks to skip.
31. Go on a whale watching tour.
32. Walk in the woods and listen to the sounds around you.
33. Take a rowboat out for an afternoon row. The UW has a great place you can do this.
34. Buy a razor scooter or borrow one from a friend and tool around on one (the stretch along Alki in Seattle is perfect for this).
35. Take a ferry ride (Bainbridge - 1/2 hour ride - Vashon - 20 minutes) and check out the local scene on the destination side.
36. Drive to an out of the way town and take a stroll around the town. North Bend can be a fun place to do this.
37. Try out a pottery class.
38. Go to that fancy clothing store you are too shy to check out and go in and allow yourself the fun of trying on some pretty/stylin' clothes (you don't necessarily have to buy anything) and notice what you like.
39. Go to the library or sheet music store and pick up some new piano music to try out.
40. Go stand up paddle boarding (perfect Solo event!)
41. Grab a basketball and go to your local neighborhood park and shoot some hoops (maybe pair it with watching your favorite basketball movie right before)
42. Check out a great documentary (POV has some good ones)
43. Take your computer to an inviting space (coffee shop/restaurant) and give yourself an hour of guilt free Pinterest watching/inspiration
44. Google the local film festivals in your town and schedule them into your calendar for a fun Artist's Date
45. Find an old piece of furniture and go to your paintstore and find the perfect color for it and go to town painting it.
46. Allow yourself to paint, draw badly - have fun with it!
47. Go to the art store and get some coloring books (they are the RAGE these days - especially for adults). If the adult coloring books don't call to you, allow yourself to pick up a kids' one and have fun.
48. Go to a local Goodwill and find pretty vintage fabric that calls to you and make something (apron, scarf)
49. Go to your local hardware store and find some wood and make something - art or birdhouse or?
50. Go to your local hardware store and browse. One of our favorites in Seattle is Hardwicks.
51. Find out about the local farmers markets and go and check out all the wonderful produce, fleurs and crafts.
52. Go to a gourmet-ish shop and buy some delicious new ingredients and make yourself a tasty dinner.
53. Make a list of restaurants that you have been wanting to try and give yourself the gift of going to one solo.
54. Take a drive to the mountains (we have beautiful Mt. Rainier in our backyard)
55. Go Snowshoeing or skiing
56. Go Snow inner tubing
57. Go to a water park and go on whatever rides YOU want to go on for as long as you want to. We have Wild Waves here in Seattle in the Summer months and Great Wolf Lodge in the Winter months
58. Grab a tennis ball and go to a court with a board and hit balls against yourself.
59. Go to a basketball game.
60. Go to a baseball game - minor leage games can be a lot of fun too
61. Go to a play.
62. Check out a local musical
63. Go to an Open Mic Night.  Conor Bryne's in Ballard has a great Open Mic on Sunday nights.
64. Go play putt putt golf.
65. Go to a Golfing driving range and hit some balls
66. Go to an outdoor Art exhibit. The Seattle Art Museum's Olympic Sculpture Park is pretty cool.
67. Go to the Aquarium. Check out Seattle's Acquarium.
68. To to your outdoor Public Market and wander around - check out Seattle's Public Market.
69. Go to the Zoo and hang out with your favorite animals. See Woodland Park Zoo.
70. Get your flight on - go see some cool planes - like at The Museum of Flight.
71. Go to the Arboretum and see what is in bloom.
72. Check out some beautiful Japanese gardens - here in Seattle Kubota Gardens and the Japanese Garden
73. Go on a fun ride. Ferris Wheel, Roller Coaster.
74. Go sailing. In Seattle at The Center for Wooden Boats on Sundays you can sail for free. Check it out here.
75. Go out for some delicious Dim Sum.
76. Go look at some cool glass art. Chihuly Glass Exhibit has some amazing art,
77. Be a tourist in your own town - go on a local tour of your hometown offerings. Check out the Ride the Ducks in Seattle and ride an amphibious landing craft into the water.
78. Go to a ballet
79. Go to the Opera
80. Go to a wine tasting
81. Check out an independent record store and listen to and/or purchase some new/old music
82.Take your knitting to a favorite spot and knit away
83. Take your computer to a favorite spot and find some cool drawing online sites and draw away.
84. In fruit season, go pick some blueberries, strawberries, blackberries
85. Visit an organic farm and go on a tour
86. Treat yourself to a sweet on your Artist's Date walking outing (ice cream cone/gluten free pastry/tasty coffee)
87. Go to an old junk store and admire the beautiful old handcrafted furniture
88. Go to a jewelry store and notice which jewelry calls to you (maybe it'll inspire you to make some)
89. Go wonder around a plant store and take in the sites (maybe treat yourself to a coffee/drink as you do so). We have several lovely garden stores in Seattle. Swansons Nursery is pretty special.
90. Go to a used bookstore and see what catches your eye.
91. Go check out open houses in your neighborhood and admire the beautiful homes in your area
92. Go to some yard sales and allow yourself to choose one or two things to buy that just delight you.
93. Declutter your space and make room for one special item that makes you smile.
94. Go to the Library and find some movies that really call to you and give yourself permission to watch one for your Artist's Date.
95. Go through your closet and choose one dress up item and wear it out to lunch/dinner by yourself
96. Go to a pet store and hang out with some pets and maybe go read about them afterward
97. Find a local waterfall and sit by it and observe the wonder. Snoqualmie Falls in Washington State is beautiful.
98. Check out a local History museum such as Mohai.
99. Check out a public garden like The Bloedel Reserve on Bainbridge or the Bellevue Botanical Garden
100. Go for a bike ride.
101. Go roller skating.
102. Sit in a coffee shop and observe people and imagine if they were a character in a book you were writing who would they be - what is their backstory and start writing whatever comes to mind (dialogue too!)
103. Go running in a beautiful area
104. Go for a walk in nature and choose your favorite tree/plant and read more about it later
105. Walk through a p patch vegetable garden and be inspired by how folks designed their plots
We keep adding more ...
106. Go Fishing
107. Kayak
108. Go on a train ride
109. Take a horse riding lesson
110. Go fly a kite
111. Go to a horse show or rodeo
112. Go see this amazing horseman in person - Buck Brannaman - he gives horse clinics and you don't have a horse to go observe (usually $30 a day to watch him train horses and their owners). He was the inspiration for the movie "The Horse Whisperer" and his horse teachings are more like "life teachings." His clinic schedule is here.
113. Go to the Library and select four random music CDs
114. Go to a parade
115. Go to a makeup counter and have a makeup DO-Over
116. Go Ice Skating
117. Do a Singing Lesson online
118. Go to a thrift store and have fun pairing mismatched outfits and/or allow yourself to try on things you would normally NEVER wear!
119. Go out on a paddleboat by yourself and notice the nature around you
120. Take in an Improv show - Unexpected Productions and Jet City Improv are two local Seattle ones.
121. Go to Tinkertopia - a creative reuse store - in Tacoma.
122. Like Poetry? Check out some of the poetry stores in town including the very cool Open Books (poetry bookstore). They have a bunch of great poetry reading events! They are located in Wallingford.
More to Come!


Our Spring/Summer 2017 Artist's Way classes will open for Registration on February 17 with classes starting the beginning of May. For more information on our classes, go to: Class Offerings

Categories: Blog Entries