Apron love.
That's where my creativity is sending me these days. And I am learning to not judge it.
Some days my creative spirit says "go learn that new Maverick's song on the Ukulele" or "go noodle around and try learning a song on your harmonica" or even "Take that Acting class with your FAVORITE instructor. You KNOW you want to!"
But the last few months, it's all about loving (and making) retro aprons.
My gateway drug to fabric obsession surfaced after coming upon the super sweet store Seattle Recreative. If you haven't heard of it, you are missing out on an adventure. They're a nonprofit in the Phinney Ridge neighborhood that takes in donated art supplies, fabric and all sorts of wonderfulness and then resells it at a deep discount to the creative folk (that's US!). I heard they were having a fabric sale – half off on already deeply discounted fabric – and I got that nagging "hmmmmm … now that sounds intriguing."
And I've learned to listen to that "hmmmmm" and (mostly) don't try to figure out where IT will take me. Now, I just baby step my way to it. Though it would be SO very easy to listen to that looming internal critic… "And why are you considering getting fabric, missy? Did you forget the last time you sewed was in high school sewing class when Mary Kumasaka tried to help you and you managed to put the sewing needle through her long nail" (thank GOODNESS for long nails! And for missing her finger).
But here's the thing … Now I stop, turn around and talk back to that voice...
"I think it's safe to return to the sewing machine. I think the statute of limitations on sewing crimes has passed (some 36 years later)…" and "You know what works for you … take the next baby step – just go to the sale and see if anything calls to you."
SO I got up early one chilly sunny Saturday morning and went to the sale heeding the fabric call. With my handy empty Frida Kahlo bag in hand ready to fatten up her image (maybe), the doors opened and I saw the mounds of glorious, wondrous fabric. I swear I could hear the angels soprano singing and the heavens humming "HMMMMMMMMMM …. YAYYYYYYYYYYYYYY".
You think I jest. But there is something that happens to me when I listen to that wee call that says "go explore that thing" … it's the feeling akin to downing a triple espresso or hearing your favorite musician playing at your beloved musical spot …" The goofy smile appears on my face and I'm in the giddy zone.
So away I went seeing what caught my retro apron maker eye and within an hour I was in the fabric bounty land. I sailed back home on the magic carpet of fabric goodies and gave them a nest in an old metal tin and I did the NEXT next thing. I grabbed an old retro apron of my moms and used it as a sample to make my very own apron.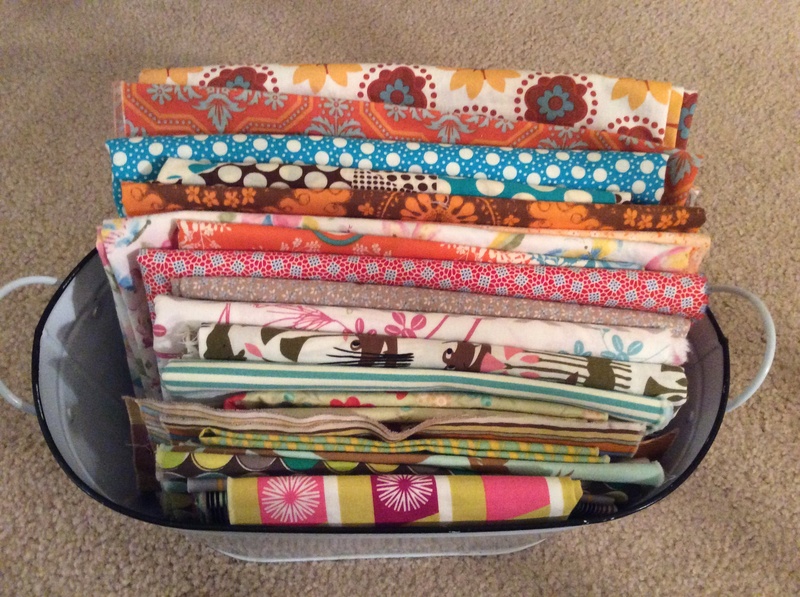 And here's the thing. It wasn't perfect but it was pretty sweet.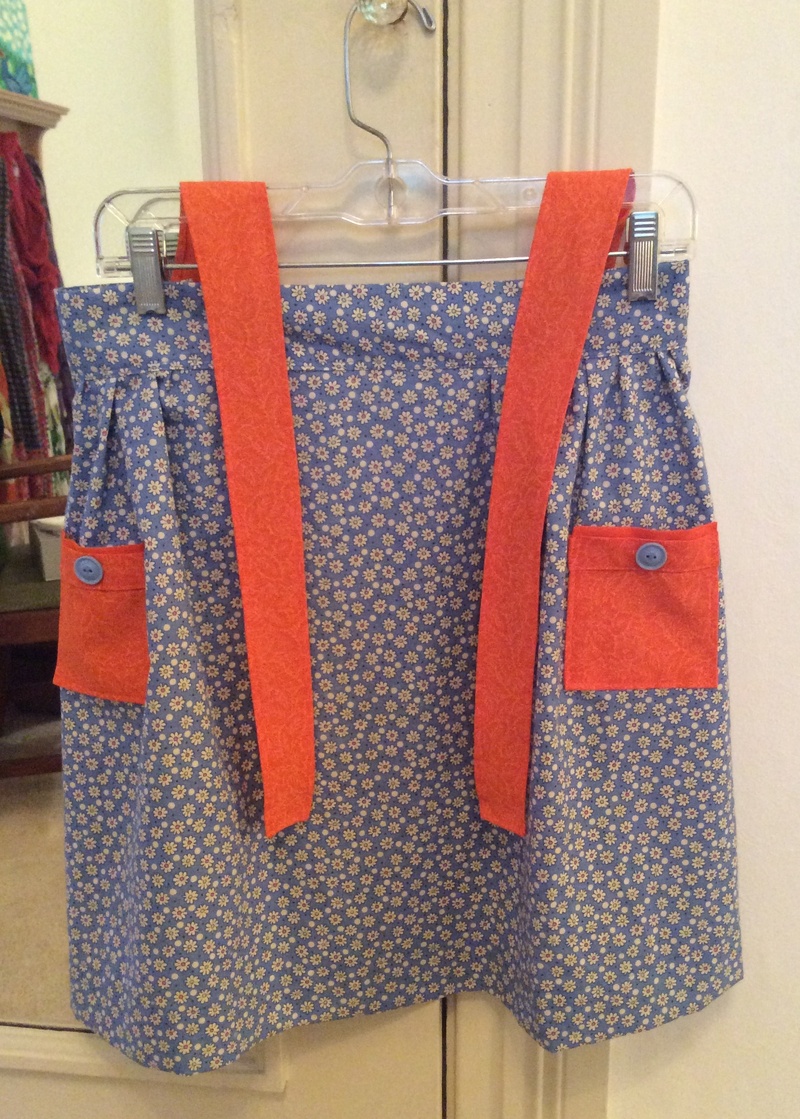 I also discovered that it's really helpful to have NEW companions with you as you navigate new creative waters.
When I worked through that first project, I remembered some wisdom that someone from Made Sewing Studio (a super cool sewing class organization/studio in Seattle) had shared something her grandmother had told her about sewing in straight lines "My grandmother said 'if someone can see your sewing stiches' they are standing TOO close." HA! My other "go-to" was from a book I read about doing things ugly and her suggestion was to call your seam reaper "your new best friend." It's amazing what a difference wee words of wisdom/encouragement like these can have on the fits and starts in the process of creation.
The voice I hear the most though is my mom's.
She was the first artist I met though she would be the last person to describe herself in that way ("Ohhh anyone can do what I do!"). She could bake, sew, cook, paint, knit, play piano … pretty much anything. But it was her sewing, in particular, that I was in awe of and she was the author of the apron that I was using as a pattern.
When I somehow managed to sew two pieces together that were clearly meant to be two separate ties and not one, I could hear her laugh with me (boy oh boy and what a laugh she has) saying "Now how did you do that? (laugh laugh laugh) That's ok, you can just rip it out … you just need to be sure that tie is to the left. You crack me up." When I finished the first one, I could picture her beaming with pride … a bit of reflection to the beaming I was doing myself.
And then the first apron led to the second and to the third … that's what I find with creative inspiration … it can propel you onward to the next cool thing …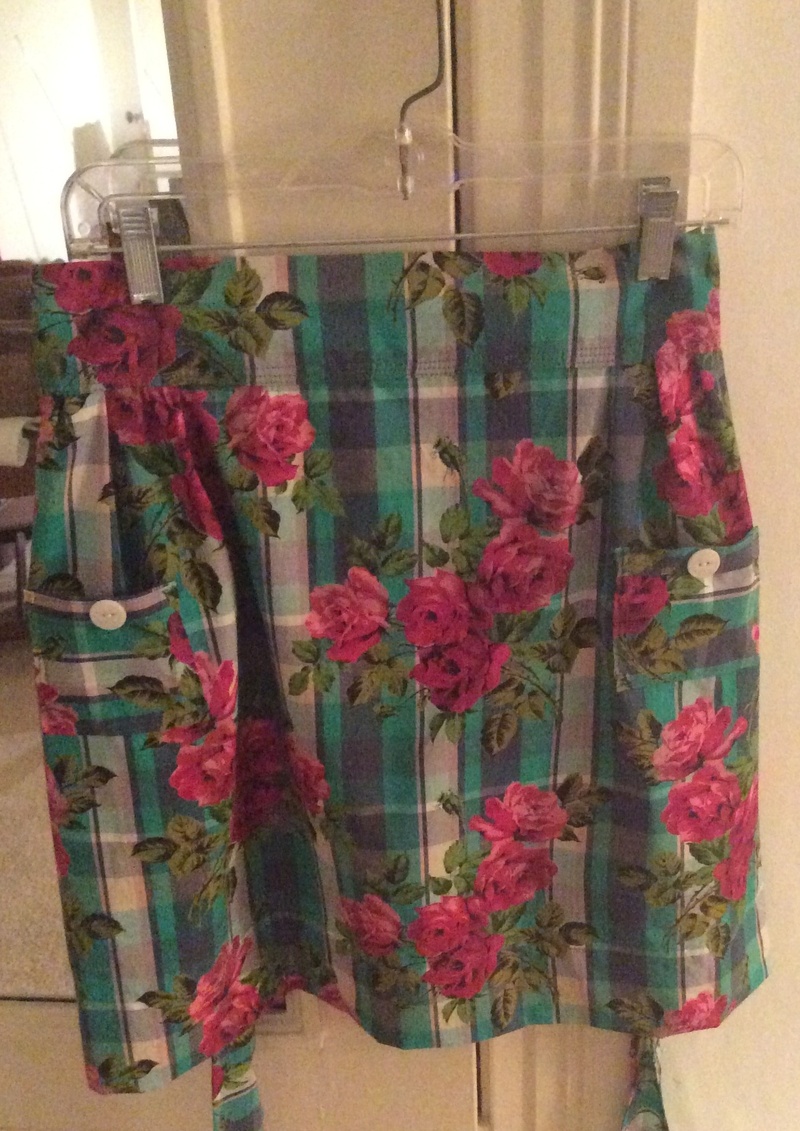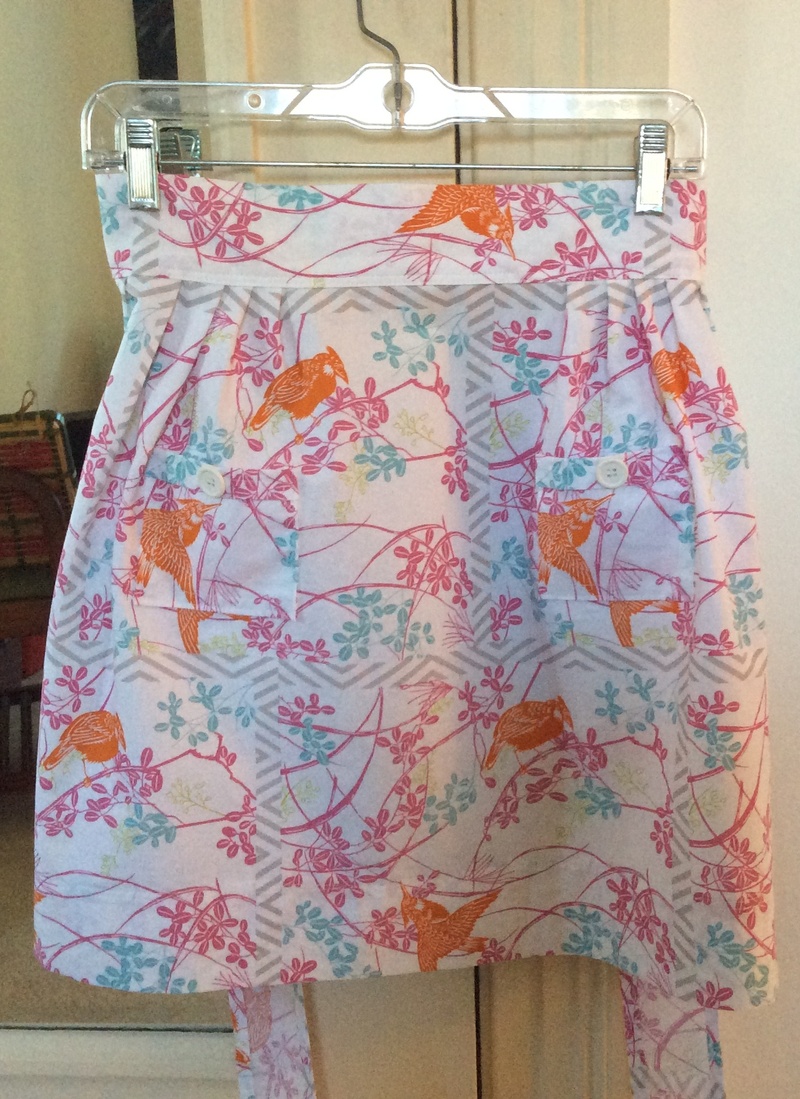 "I DID it!" I would say to myself when I would pass the completed apron du jour that I had hanging in my creative space.
"YOU did it!" the aprons replied back to me along with … "Thank you for giving me some life."
Because that's what exploring our creativity does (not causes you to hear aprons talking back to you but  ....)
It gives life.
To the item, to new ideas, to others who receive the gift or get filled up with the image of what you created. It inspires them to go explore their gifts, their quirky yearnings, their own "Hmmmmm's". Lately, I've noticed that I've had lots of other new ideas that I've been giving life to in my life both personally and profesionally. Is it a coincidence that those have been popping up just as I've been allowing myself the fun and joy in creating new aprons? I think not.

So much to be thankful for.
And I am … VERY thankful for all those who are willing to create and share their talents with all of us.
Such a gift.
Thank YOU!
To check out my available aprons for sale, go here.

**********************************************
Our Spring/Summer Artist's Way Classes are NOW OPEN for Registration with classes beginning beginning May, 2016. More info here.

This wonderful tidbit below on The History of Aprons was shared with me from one of our Artist's Way students who found it on the internet. Thank you, Kendra!
"The History of 'APRONS'
I don't think our kids know what an apron is. The principle use of Grandma's apron was to protect the dress underneath because she only had a few. It was also because it was easier to wash aprons than dresses and aprons used less material. But along with that, it served as a potholder for removing hot pans from the oven.
It was wonderful for drying children's tears, and on occasion was even used for cleaning out dirty ears.
From the chicken coop, the apron was used for carrying eggs, fussy chicks, and sometimes half-hatched eggs to be finished in the warming oven.
When company came, those aprons were ideal hiding places for shy kids..
And when the weather was cold, Grandma wrapped it around her arms.
Those big old aprons wiped many a perspiring brow, bent over the hot wood stove.
Chips and kindling wood were brought into the kitchen in that apron.
From the garden, it carried all sorts of vegetables. After the peas had been shelled, it carried out the hulls.
In the fall, the apron was used to bring in apples that had fallen from the trees.
When unexpected company drove up the road, it was surprising how much furniture that old apron could dust in a matter of seconds.
When dinner was ready, Grandma walked out onto the porch, waved her apron, and the men folk knew it was time to come in from the fields to dinner.
It will be a long time before someone invents something that will replace that 'old-time apron' that served so many purposes.
Send this to those who would know (and love) the story about Grandma's aprons.
REMEMBER ...
Grandma used to set her hot baked apple pies on the window sill to cool. Her granddaughters set theirs on the window sill to thaw.
They would go crazy now trying to figure out how many germs were on that apron.
I don't think I ever caught anything from an apron - but love."
Categories: Blog Entries